New Uniform Shop Opening after Easter!
We are delighted to let you know that after the Easter holidays, we will be opening up our very own pop-up uniform shop.   The shop will be owned and run by Lucy Wiseman and sell everything you need to get your child kitted out in the correct uniform including ballet, modern and tap uniform plus other items including our own branded Jazzy Js sweatshirts and onesies.  More information on times/locations will be coming soon, but for any enquiries regarding uniform, please contact Lucy at uniform@jazzyjs.co.uk
New ISTD ballet uniform
You may also have seen that the ISTD have updated their ballet leotard to an aquamarine colour.  There is no pressure to buy this immediately, but as and when your child grows out of their current leotard, please update it to the new style which Lucy will be selling at the Jazzy J's Uniform shop from the summer term onwards.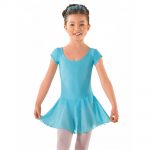 When children move from baby ballet to pre primary, the uniform consists of the  the skirted leotard as pictured here (along with either ballet tights or socks).   They will continue to wear this from Pre-Primary through to (and including) Level 1 ballet.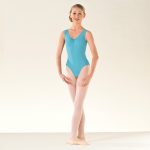 From Grade 1 upwards, the new uniform is a non-skirted leotard in the same aqua marine colour.
For all enquiries regarding uniform, please contact Lucy at uniform@jazzyjs.co.uk